Commercial Toilet Cubicles
DA Range - 18mm MF MDF
Our Commercial Toilet Cubicle Range is ideal for medium to low footfall environments making it perfect for areas such as offices, supermarkets, village halls and clothing shop changing rooms. It can be used for single or multiple cubicle layouts. The cubicles are delivered ready to install which allows a reduction in installation time and costs. The materials provide an easy to clean and aesthetically pleasing finished product.
​
This system is manufactured bespoke to your measurements to ensure it fits the first time. We provide you with a
Drawing for Approval before manufacture takes place to ensure all the details are correct. The cubicles are delivered ready to install with a qualified joiner, handyman or caretaker team being sufficient to complete the fitting work. We also provide an installation guide and we have qualified installers ready to answer any questions you may have.
Advantages of the DA System
Delivered ready to install

Bespoke

Quick lead time

Easy install: no site cutting required

Easy to clean

10 year guarantee on cubicle fittings

Cost effective

Mix panel colours to provide contrast

Fully water and rust proof SAA fittings
Highly Recommended for
Office toilets

Supermarkets

Clothing store changing areas

Taste booths

Shop floor toilets

Reading booths and office cubicles

Works toilets

Any dry area requiring cubicles
Specification
Dry Area & Commercial Toilet Cubicles
Heavy Duty Satin Anodised Aluminium
Approx 3 - 6 working days
10 years on cubicle fittings
Colour Combination Suggestions
Door: Light Grey
Pils & Parts: White
Door: Sand
Pils & Parts: Light Grey
Door: Lavender
Pils & Parts: Light Grey
Door: White
Pils & Parts: Blue
Additional Door Colours (extra cost)
Standard Panel Dimensions
Commercial Panel Material




18mm Melamine Faced MDF
The Dry Area System is constructed from 18mm MF MDF panels, which are a step up in quality from MFC (chipboard) which is used for our Contractor Range.
​
The panels are completed with a 2mm PVC knock resistant edge edged all round. Melamine is extremely easy to maintain and exceptionally hard wearing, making it a perfect solution for toilet cubicle solutions.
​
These material properties provide a simple low maintenance cubicle system.
​
Cubicle Fittings
Heavy Duty Satin Anodised Aluminium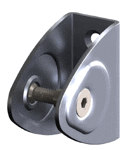 Contact Us
Like what you see........Contact us!