Doors & Partitions Down to Floor Level
This range of toilet cubicles provides extra privacy and security than your average cubicle set up. The panels finish at floor level to remove risk of intrusion. This range is ideal for areas with high foot fall. The panels we use are 12mm CGL. They provide anti vandal properties and are extremely easy to clean. The range comes with a 10-year guarantee to provide peace of mind.
​
This system is manufactured bespoke to your measurements to ensure it fits the first time. We will provide you with a Drawing for Approval before manufacture takes place to ensure all the details are correct.
Advantages of the CU Extend
10 Year Guarantee

Anti-vandal

Class O fire rated

Easy to install: no site cutting required

Very easy to maintain and clean

Impervious to water or moisture

Delivered ready to install

Non-odour absorbent

Will not harbour any biological growth

Most graffiti removable with detergents

Fully water and rust-proof SAA fittings

Environmentally friendly (due to the long life of the product plus being constructed from natural & recyclable products)
Highly Recommended for
Schools WC's

Areas that are designed with quality & longevity in mind

Shower Areas

Healthcare

Prison toilet and showers

Swimming Pools

Public WC's

Pubs

Hospitals
Specification
Heavy Duty Satin Anodised Aluminium
Approx 10 - 15 working days
12mm Compact Grade Laminate (CGL)
Popular CU Extend Colours
Standard Panel Dimensions
Panel Material
Bio Carbon Solid Grade Laminate
SGL is a 12.5mm thick self supporting material constructed from multiple layers of kraft paper. The kraft paper is reinforced by thermosetting resins under high pressure & temperature to produce a totally waterproof, high density, tough & hygienic panel. The panels we use are 12.5mm Bio Carbon.
The panels are one piece material with a black core meaning no edging is required. The typical edge finish is a polish & 1mm chamfer to the leading edge.
Due to the excellent qualities of this material we use it for through out our CU Range products which come with a 10 year guarantee against standard failure on all CGL panels.
Cubicle Fittings
Heavy Duty Satin Anodised Aluminium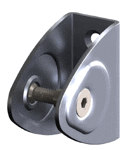 Like what you see........Contact us!