Toilet Cubicles Prices Online
Receive a Toilet Cubicle Price today. Give us a call or email to receive a quote. We are a bespoke manufacturer of toilet cubicles. We produce various systems to suit the wide range of environments where cubicles are required. Each system has its own characteristics and colour range.

To receive a quotation simply provide us with a quick sketch of what you require along with a delivery address. This can be emailed to sales@ukcubicles.co.uk. Alternatively give us a call on 01535 602141 to discuss you requirement in further detail.
​
Below is a selection of our toilet cubicle ranges. To view the full choice please visit our Toilet Cubicles page.
Off the Shelf Toilet Cubicles - Fast Delivery
Heavy Duty Satin Anodised Aluminium
Order before 12pm for next day delivery
10 years on cubicles fittngs
Bespoke Made to Measure Toilet Cubicles
Delivered ready to install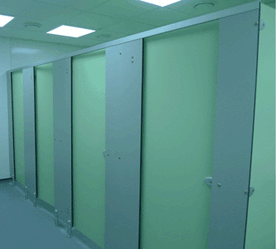 Heavy Duty Satin Anodised Aluminium
Approx 10 - 15 working days
Heavy Duty Satin Anodised Aluminium
Approx 3 - 6 working days
10 years on cubicles fittngs